Bangor, ME —
The Bangor Symphony Orchestra's annual
Young
People
's
Concerts
 took place on Monday, May 16th at the Collins Center for the Arts. For the second year in a row, the educational performances were sold out, with over 2,600 students attending from Milo to Machias and as near as Bangor. The
concerts
are offered annually to school groups from the 3rd to 8th grade and cost just $3 per student.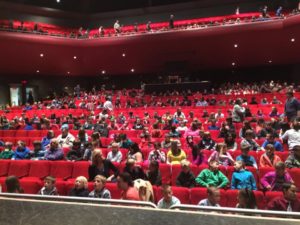 Lucas Richman, Music Director and Conductor for the Bangor Symphony Orchestra, has made it his mission to instill in
young
children the awareness of music as an integral part of their lives. This year's 
concert
theme was "Musical Transportation: From the Sea to the Stars". The
Young
People
's
Concerts
are also a showcase for the winner of the
BSO
's annual Maine High School Concerto Competition. This year's winner Morgan Flanigan (pictured above), a 10th grade pianist from Yarmouth, performed Mendelssohn's
Piano Concerto No. 1 in G Minor
.
Adding to the excitement, the BSO live streamed the Young People's Concerts this year as a way to reach classrooms, supporters, and fans who could not attend in person. Selections from the live stream can still be viewed online at the Symphony's
USTREAM channel
.
This year's
Young
People
's
Concerts 
were underwritten by the Morton-Kelly Charitable Trust, the Simmons Foundation, and the Bangor Area Breakfast Rotary.