November 19, 2023 at 3pm
Collins Center for the Arts
Lucas Richman, conductor
Michelle DeYoung, mezzo-soprano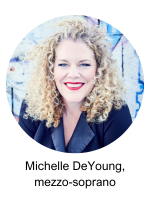 Drama fills this program as two tales of star-crossed lovers take center stage: Tristan und Isolde, and Romeo & Juliet.
Program
Debussy | Prélude à l'après-midi d'un faune
Wagner | Prelude and Liebestod from Tristan und Isolde
Prokofiev | Selections from Romeo & Juliet
What's Interesting About This Concert
Michelle DeYoung has brought her celebrated interpretations of Wagner's music to concert halls and stages around the world; having first worked with Maestro Richman in 1995, the two artists will reunite in Bangor.
Like Tristan and Isolde, the fates of Romeo and Juliet have been explored for centuries across artistic mediums. Prokofiev's music is iconic for its energy and depth.
Tickets