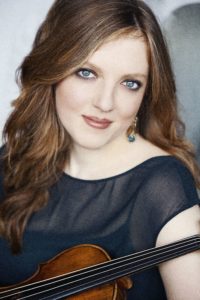 Heralded as a leading interpreter of the great classical masterworks, international concert violinist Rachel Barton Pine thrills audiences with her dazzling technique, lustrous tone and emotional honesty. With an infectious joy in music-making and a passion for connecting historical research to performance, Pine transforms audiences' experiences of classical music.
During the 2015-16 season, Pine will perform concertos by Beethoven, Brahms, Bruch, Dvorak, Fairouz, Mozart, Sibelius and Vivaldi, with orchestras including the Santa Rosa Symphony, the New Mexico Philharmonic, and the Flagstaff, Windsor, and Gainesville Symphony Orchestras. She will continue her recital tour of the Six Bach Sonatas and Partitas for Unaccompanied Violin in Gainesville, FL and Washington, D.C.
In April, 2016 Avie Records will release Pine's performance of J.S. Bach's Six Sonatas and Partitas for Violin. Pine recently celebrated the release of her debut album on Avie: Mozart: Complete Violin Concerto, Sinfonia Concertante, with conductor Sir Neville Marriner and The Academy of St Martin in the Fields.  In September 2015 Cedille Records releases her recording of Vivaldi: The Complete Viola D'Amore Concertos with Ars Antigua.
This season a high-definition,  life size video of Pine playing and being interviewed will be the culminating installation of "Stradivarius: Origins and Legacy of the Greatest Violin Maker," a new exhibit of treasures made by master violin makers including Andrea Amati, Guarneri del Gesù, and Antonio Stradivari debuting at the Musical Instrument Museum in Phoenix, AZ.
Pine has appeared as soloist with many of the world's most prestigious ensembles, including the Chicago Symphony; the Philadelphia Orchestra and the Royal Philharmonic; and the Netherlands Radio Kamer Filharmonie. Her past festival appearances have included Marlboro, Wolf Trap, Vail, Ravinia, Davos, and Salzburg.
She has worked with such renowned conductors as Charles Dutoit, Zubin Mehta, Erich Leinsdorf, Neeme Järvi and Marin Alsop, and with such leading artists as Daniel Barenboim, Christoph Eschenbach, Christopher O'Riley, and Mark O'Connor.  She has collaborated with many contemporary composers including Augusta Read Thomas, John Corigliano, José Serebrier, and Mohammed Fairouz.
Pine has a prolific discography of 30 CDs on the Avie, Cedille, Warner Classics, and Dorian labels. Pine began an exploration of beloved violin concertos and the concertos that inspired them with Brahms and Joachim Violin Concertos, recorded with the Chicago Symphony Orchestra and conductor Carlos Kalmar. Her Beethoven & Clement Violin Concertos, recorded with The Royal Philharmonic and conducted by José Serebrier, offered the world premiere recording of Clement's D Major Violin Concerto.
Her recording of Violin Lullabies, with pianist Matthew Hagle, debuted at number one on the Billboard classical chart.
She writes her own cadenzas to many of the works she performs, including for the Beethoven and Mozart concertos.  In 2009, Carl Fischer published The Rachel Barton Pine Collection, a collection of original compositions, arrangements, cadenzas, and editions penned or arranged by Pine, which made her the only living artist and first woman to join great musicians like Fritz Kreisler and Jascha Heifetz in Carl Fischer's Masters Collection series.
Pine holds prizes from several of the world's leading competitions, including a gold medal at the 1992 J.S. Bach International Violin Competition in Leipzig, Germany.
Her Rachel Barton Pine Foundation assists young artists through various projects, including the Instrument Loan Program, Grants for Education and Career, Global HeartStrings (supporting musicians in developing countries), and a curricular series in development with the University of Michigan: Music by Black Composers.
Pine performs on the Joseph Guarnerius del Gesu (Cremona 1742), known as the "ex-Bazzini, ex-Soldat" on lifetime loan from her anonymous patron. rachelbartonpine.com