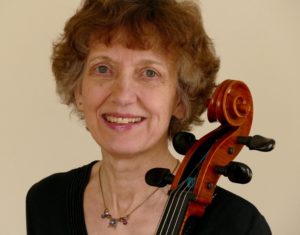 Noreen Silver was born and grew up in Glasgow, Scotland. As a teenager she was a member of the prestigious National Youth Orchestra of Great Britain. Cello studies followed at London's Royal College of Music and Boston's New England Conservatory, as well as inspirational work with world renowned cellists Pierre Fournier, Jacqueline du Pré, and William Pleeth.
Noreen joined the University of Maine adjunct faculty in 1999, teaching cello and chamber music. In a recent project spanning three years, she performed the six Suites for Solo Cello by JS Bach, in UMaine's Minsky Hall. She is an avid chamber music player, and a dedicated teacher. Most of Noreen's career has been centered around the Silver Duo with pianist husband Phillip Silver. Together they have performed in Israel, Germany, USA and UK. The Duo has received outstanding reviews: "The Silvers are a Superb Duo." Frankfurter Allgemeine Zeitung; "…one of our truly fine chamber music teams." The Jerusalem Post; "..you can depend on them for first-rate music making." The Herald (Glasgow).
Recordings include live performances on BBC Radio, NPR, and Israel Radio. Two CDs for the Toccata Classics label feature the music of Italian Jewish composer Leone Sinigaglia, and German composer Bernhard Sekles. MusicWeb International's review described the latter as "a really valuable discovery" marked by "flawless playing"……."thoroughly deserving to be heard by every chamber music lover." Noreen has been described as "an extraordinarily soulful player" who "demonstrates an uncommon depth of feeling and imagination"  by The Glasgow Herald.
Noreen has appeared as soloist with the BSO on several occasions, in Beethoven's Triple Concerto (2005), and Schumann's Cello Concerto (2009). This is her first solo appearance with Maestro Lucas Richman.