Inspiring community through music. This is what the Bangor Symphony Orchestra has done for 125 years. And now, thanks to your generosity, we are pleased to announce a giant step forward in preserving this mission for generations to come: the BSO has met and surpassed its $1.25M goal for the 125th Anniversary Endowment campaign!  Thank you to our remarkable supporters for sharing our vision of ensuring the future of live classical music and music education in Bangor and beyond.
View Donor Listing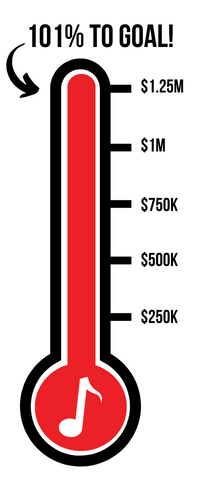 Still Time to Give…
Mail Check To: Bangor Symphony Orchestra, P.O. Box 1441, Bangor, ME 04402-1441
Call: Sarah McCarthy, Director of Development, (207) 942-5555 ext. 2
Would you like to discuss making a gift of appreciated securities, an IRA Charitable Rollover (for those 70.5 and older), or a multi-year pledge? Please e-mail development@bangorsymphony.org or call (207) 942-5555 ext. 2.
Your Gift Supports…
The future of music education in our community
Outreach programs focused on accessibility
Concerts that aim to inspire us, move us, and connect us
About the Endowment
The Bangor Symphony Orchestra's mission is to provide powerful, enriching, and diverse musical experiences through live concert performances and education programs of the highest quality. The Endowment Fund ensures this critical mission will be fulfilled for future generations and through periods of great unpredictability. The BSO's Endowment is comprised of a general fund, the draw of which offsets critical artistic and operational expenses each year, as well as restricted purpose funds, established by donors to underwrite individual musician chairs and specific educational programs, such as the Bangor Symphony Youth Orchestras. Ticket sales only cover 40% of annual expenses, with the Endowment Fund playing a vital role as we seek to keep ticket prices affordable while growing for the future.
How Your Gift Works
A donor makes a gift to the General Endowment Fund, which supports all aspects of the BSO's artistic and educational programming. (Please talk to us if interested in a restricted purpose or named gift).
The Investment Committee prudently invests the donor's gift across major asset classes in the BSO's portfolio to maximize long- term total return and manage risk.
A predetermined portion of the annual return* is used for the intended purpose. The Fund's principal remains intact.
The remainder of the annual return is reinvested along with the Fund's principal as a hedge against inflation and to generate growth.
The Fund continues to grow, ensuring future support.