Kiwanis International presents;
July 4th, 2022 Celebration and Chords for Cure XXV to be held at the new Maine Savings Amphitheater – an evening of music and fireworks featuring:
The Bangor Symphony Orchestra
Dakota
&
The Stone Doctors
BANGOR, Maine – The Queen City's own Dakota, The Stone Doctors and The Bangor Symphony Orchestra will play an outdoor concert in celebration of July 4th and in support of Chords for Cure – a locally founded charity to support Maine Children fighting cancer – in the newly renovated Maine Savings Amphitheater.
The free concert will start at 5:15 pm and headline a day of music and activities on both sides of the Penobscot River and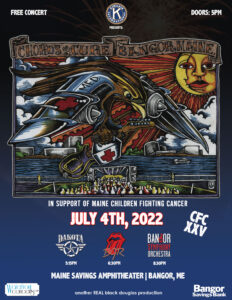 is made possible by a generous donation from Bangor Savings Bank to the Greater Bangor 4th of July Corporation.
"We're excited to see another year of enhanced activities for Bangor's Fourth of July celebration," said Bangor Savings Bank President and CEO Bob Montgomery-Rice.
Local favorites Dakota will kick off the evening at 5:15 PM with their brand of classic hits from the '70's and beyond!  The Stone Doctors will take the stage at 6:30 PM delivering fire brand versions of The Rolling Stones and related music.  At 8:30 PM, led by Grammy Award-winning music director Lucas Richman, the Bangor Symphony Orchestra will present a family-friendly program of popular and patriotic music to celebrate the nation's birthday. The evening concert will conclude with a spectacular fireworks display!
It will be the first Stone Doctors performance on the waterfront since Chords for Cure XXIII in 2019 and the first BSO performance on the Bangor waterfront since 2011. The Greater Bangor 4th of July Corporation puts on a full day of activities, starting with a pancake breakfast at Jeff's Catering in Brewer at 7 AM, as well as a foot race parade and a parade from Brewer to downtown Bangor.
Schedule of Morning Events
07:00 AM – Breakfast at Jeff's Catering
09:45 AM – Road race Brewer to Bangor
10:00 AM – Parade Brewer to Bangor
Concert Details
05:00 PM – Doors Open
05:15 PM – Dakota
06:30 PM – The Stone Doctors
08:30 PM – BSO
09:30 to 10:10 – Fireworks