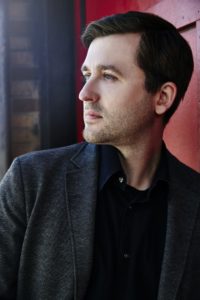 Hailed as an "immaculate" artist (Minneapolis Star Tribune) with "superb technique and control" (St. Paul Pioneer Press), American pianist Andrew Staupe is emerging as one of the distinctive voices of a new generation of pianists. Andrew has appeared with the Minnesota Orchestra on five subscription series since 2006, and has performed with the Baltimore Symphony, San Diego Symphony, Houston Symphony, Indianapolis Symphony, Arkansas Symphony, Tallahassee Symphony, and many other orchestras throughout the United States. He has collaborated with distinguished conductors Osmo Vänskä, Bobby McFerrin, Jahja Ling, Gerard Schwarz, Andrew Litton, Lucas Richman, Cristian Macelaru, Larry Rachleff, Josep Caballé-Domenech, Daniel Hege, Robert Franz, and Mischa Santora. He has performed across the United States and extensively in Europe, appearing in Russia, Holland, the Czech Republic, Latvia, Romania, France, Germany, and Bulgaria. On tour in Europe, he has appeared in distinguished concert venues including the Concertgebouw in Amsterdam, Rachmaninov Hall in Moscow, and the Salle Cortot in Paris.
An avid chamber musician, Andrew has jammed with legendary vocalist Bobby McFerrin, played tangos with The Assad Brothers, and has performed with Chee-Yun, Sharon Robinson, Martin Chalifour, Jessica Rivera, Desmond Hoebig, and Joseph Swensen. He was a guest artist at the 2014 La Jolla Summerfest, the 2010 Orcas Island Chamber Music Festival, as well as the Glacier Symphony's 2013 Festival Amadeus. Andrew has a keen interest in performing new music and has premiered a number of works for solo piano and chamber ensemble by composers Howard Shore, Sarah Kirkland Snider, Christopher Walczak, Christopher Goddard, Karl Blench, and Anthony Brandt. Other notable performances include concerts at the Kennedy Center and the Library of Congress in Washington, D.C., and Steinway Hall and Trinity Wall Street in New York City. His live performances have been broadcast nationally on WQXR in New York City, KSJN in Minneapolis, and KUHF in Houston. He has performed twice on American Public Media's Performance Today, and on Garrison Keillor's A Prairie Home Companion in 2004.
Andrew has earned prizes in a number of competitions including the 2011 Pro Musicis International Award, Gold Medal at the 2010
Young Texas Artists Music Competition, first prize at the 2006 WAMSO (Minnesota Orchestra Volunteer's Association) Young Artist Competition, and
 was also a Laureate of the 2013 American Pianist's Association competition finals. A native of Saint Paul, Minnesota, he studied at Rice University with Jon Kimura Parker, and at the University of Minnesota with Lydia Artymiw.